Just to bring folks up to date on the progress.
Here's a couple of recent views of the pier.
March 20th (from Sea-N-Suds)
March 27th (from WKRG)
This is from the ACFA thread on the same subject last Sunday (Mar 22)
Gulfcoastgamefish wrote:I live right next to the pier. I have been keeping a somewhat eye on it, but from here on out will try to be diligent in getting and relaying pertinent info. I know the stripes have been painted on the asphalt entrance and the parking lot seems to be done. Just waiting for that last section. The two barges working on the pier harbor in Perdido Pass and have to make the long journey around to the pier it seems daily. The gulf was kicked up from the wind this weekend and I didn't see any work going on. No lights have been on at night anywhere. More updates as things happen.
And on Tuesday March 24th he added:
Gulfcoastgamefish wrote:Drove by on my way in tonight and saw lights on at the pavillion at beginning of pier, also the red marker lights on the underside were on. Not sure if these have been on but it is the first time I have noticed them. The lamps going out the pier were not on. Entrance looks ready, wind was howlin' today and probably will be for a while.

From another source, no guarantee is made on the reliability of this info, sounds informed though: "The contractor is back to where they were prior to the two storms last year. It's taken a while due to high winds and surf. Now they need to put in approx. 24 pilings to complete the last section, top them off and build the shelters on the end. There is still no projected completion date due to the inability to predict weather conditions. It is hoped to have the pier turned over to the park by June but as I tell everybody, "it will be finished when they get done!"
Thanks GCGF


didn't take these. clipped them off Orange Beach's site, I think.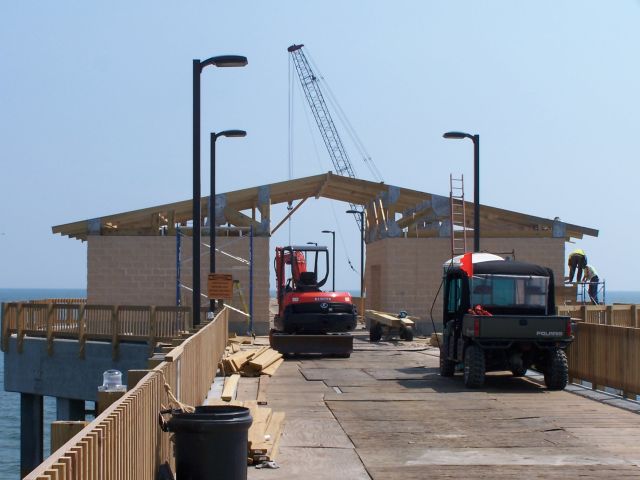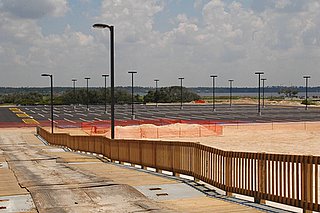 I plan on getting some good new pics soon!


gulfcoastgamefish

Captain




Posts

: 115


Join date

: 2008-05-30



Any new update on the pier? coming in May and hoping it is ready.
LL
barges have not been out in a while, thought they might get out today, but no. Looks like they may have gotten involved in the Perdido Pass dredging operation while they waited. I am not sure if that is the same equipment but it looks like it. Still have quite a few pilings to put in, and much carpentry work, June 1st would be a stretch, May I would say is out.

Game Fish

gulfcoastgamefish

Captain




Posts

: 115


Join date

: 2008-05-30



Thanks for the update, we were hoping for better news lol
Thank you
LL
I have had some success fishing from the beach next to the pier, and hear there are pompano at west beach pass. I'll let you know more.

Game Fish

P.S. I like your condo web site. My wife's parents have a place at Phoenix I that we are thinking about doing the same thing with. Management companies only concentrate on renting the higher dollar properties, their place has had two renters since October.

gulfcoastgamefish

Captain




Posts

: 115


Join date

: 2008-05-30



http://www.al.com/outdoors/mobileregister/index.ssf?/base/sports/124497105771650.xml&coll=3
The new Gulf State Park Pier likely will not be open for the Fourth of July, assistant park director Trey Myers said on Friday.

"Structurally, the pier is complete," Myers said, "but even if they (contractor LCI Inc.) were to turn it over to us in two weeks,
there's no way we'd be ready for July 4.
Once they turn it over to us, we still have to stock it and do some things that weren't included in the contract.

"We put in requisitions for signage just this week, and we still haven't gotten approval on rates (to fish the pier)."

The substantial-completion inspection is scheduled to take place June 23, Myers said.

"We expect to find everything done to our satisfaction," Myers said, "but there can always be something unforeseen.
We're hoping to have it open within 30 days, but we haven't even set a date yet."



http://www.al.com/outdoors/mobileregister/index.ssf?/base/sports/1245575711259190.xml&coll=3
Artificial reefs designed to enhance fishing at Gulf State Park Pier

Artificial structures will be placed where they are of the most benefit to fishermen casting from new Gulf State Park Pier

Sunday, June 21, 2009

By JEFF DUTE

Outdoors Editor

In a sentimental gesture, one piling from the old Gulf State Park Pier will anchor a system of artificial reefs that will be deployed around the end of the new pier, Alabama Marine Resources biologist and state artificial reef coordinator Kevin Anson said Friday.

The lone old piling will be placed on the bottom along with several pilings from the new pier that were damaged during hurricanes Ike and Gustav last year to create a 25-foot by 50-foot, lean-to-style reef southwest of the new pier's 90-foot-wide end octagon, Anson said.

Anson said the company subcontracted to build the reefs has indicated it will begin placing the pilings Monday or Tuesday morning.

In addition, a U.S. Army Corps of Engineers permit allows the state to place 12 limestone reef pyramids constructed by well-known Alabama coast reef-builder David Walters at three other locations around the end of the pier. The pyramids measure 10 feet at the base and stand 8 feet tall, Anson said.

Anson said plans are to have the pyramids in place by the time of

the pier's expected opening, which has now been pushed back until early August.

All of the reefs will be placed inside of the 300-foot no-boating zone around the new pier. He added that the additional structure should combine with the pier pilings to eventually attract many popular game species.

"It'll be illegal for boats to be inside the marked 300-foot no-boating zone, but depending on the wind and waves, they (boaters) may be able to drift a bait into the reefs," Anson said. "We want to make these a pier fisherman's reefs."

Anson said the no-boating zone was a long-standing practice at the old pier in an effort to "minimize any user conflicts" between boaters and pier fishermen. The old pier did not have any additional man-made reef structures around it.

Anson said the remaining rubble from the old pier would be used to construct three new artificial reefs in the permitted reef zone south of Orange Beach.

LCI Inc. of Memphis, which submitted the low bid of $16.2 million, began construction of the new pier in December 2007. Its original completion date was expected in March, but weather plagued construction efforts since two late-season storms in 2008 damaged more than a dozen pilings on the new pier.

The new pier will be 20 feet wide and 1,520 feet long while standing 20 feet off the water at mean high tide. It will be the longest fishing pier on the Gulf Coast, according to state engineers.

It has a concession area with restrooms, picnic tables, snack bar and tackle shop. Additional restrooms will be located at a 65-foot-wide mid-pier octagon. The end-pier octagon measures 90 feet across.
Hmmm,
March
May
July
early August ?

Thank you for the update
LL

---
Permissions in this forum:
You
cannot
reply to topics in this forum